Saturday ~ April 13, 2019 ~ Scottsdale, AZ

7 PM Performance – 5 PM Chorus Rehearsal
Pinnacle Presbyterian Church
25150 North Pima Road
Scottsdale, Aa 85255
–
Sedona Conservatory presents
The Third Annual All-Arizona
'Messiah Sing-In'
A Celebratory 'Sing-Along Performance' of Handel's Greatest Hit!

---
Chorus Resources, Links & Map:
Go Here
---
George Friedrich Handel's MESSIAH had its first public performance on April 13th, 1742, in Dublin, Ireland.  Written for the pre-Easter lenten season, this year we celebrate MESSIAH's 277th Birthday on the actual date of its 1742 premiere, Saturday, April 13th, one week before Easter.  
You are invited to join with singers from throughout Arizona as we throw a party to celebrate Handel's MESSIAH in the very best possible way – We'll sing it!  
If you have already sung this most-celebrated and beloved of all oratorios, you understand our enthusiasm. If you have never had the opportunity to sing it, now is your chance! Yes, YOU and the rest of the singing audience will perform the choruses, joined by soloists, a baroque orchestra and a very grand organ.
"May I come & enjoy listening only?"  Absolutely – Claim you tickets now!
---
For a Printable PDF Copy of this Informative Flier: Click Here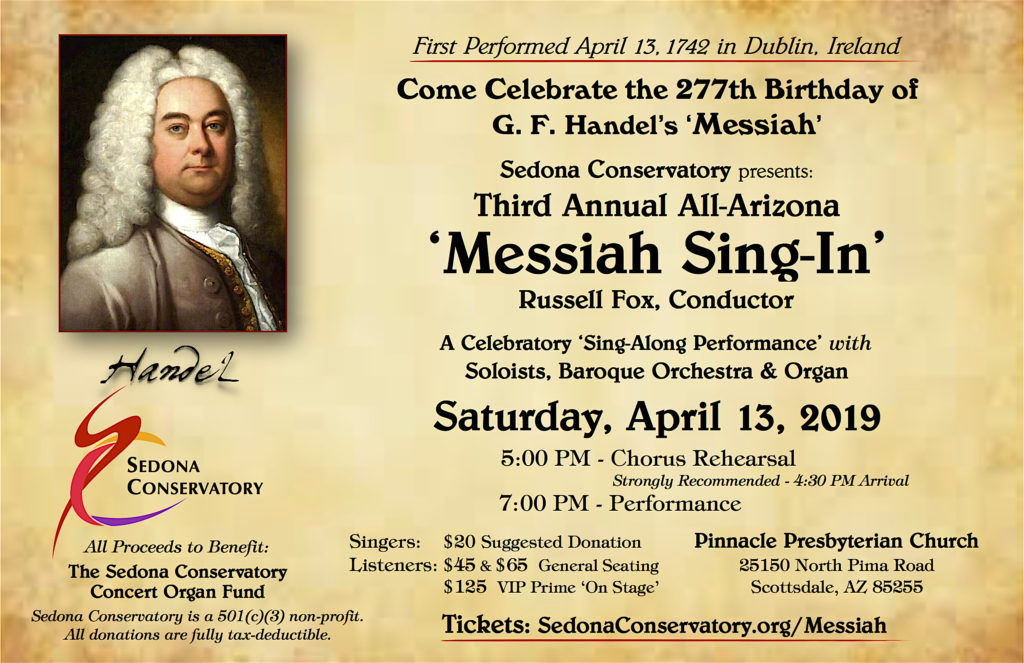 ---
"Are we performing the entire MESSIAH?"  Good question. A complete MESSIAH performance with intermission runs well over 2½ hours. In this year's MESSIAH Sing-In format, the great majority of MESSIAH's choruses will be performed, with just a few of the less well-known choruses left for future Sing-Ins.  For a list of choruses we will perform, along with the corresponding G. Schirmer Edition page number references, please Go Here.
---
Any 277th birthday is an occasion for a BIG Celebration!  And, when the celebration is for the most highly acclaimed & beloved of all oratorios, it's time to drop everything, come to Scottsdale, and SING IT!
Saturday, April 13th – 7 PM Performance; 5 PM Chorus Rehearsal
---
Location:
Pinnacle Presbyterian Church
25150 North Pima Road, Scottsdale, AZ
At the intersection of E Happy Valley Rd & N Pima Rd 
---
To Prepare for Your 'Messiah Sing-In' Performance
On April 13th, there will be a limited supply of MESSIAH vocal scores available to borrow, with photo ID, for the evening – A good reason to arrive early! Naturally, it is best for many reasons to have your own score to help you prepare. You can mark it up as needed, enjoy singing from your own copy, and save it for next year's 'Messiah Sing-In.'  Though not required, if possible please try to acquire and bring your own vocal score. Here's how to get your own copy to use every year.
There are several very good editions of Handel's oratorio MESSIAH. However, unless you are planning to sing one or more of the vocal solos, the piano/vocal score suggested below will be perfect for you. This excellent standard edition is also one of the least expensive. 
Suggested Messiah Score:
Title: MESSIAH (Oratorio)
Complete Vocal Score SATB
Composer: George Friedrich Handel
Publisher: G. Schirmer Editions
ISBN: 9780793505074
Where to Purchase Your Messiah Score: The following three major music stores are aware of the 'Messiah Sing-In' on April 13th and should have the above G. Schirmer Edition in stock. If not, they will order it for you.
Recommended Music Stores:
  •  In Flagstaff: AZ Music Pro – (928) 556-9054
  •  In Mesa: The Music Store – (480) 831-9691
——-Order online: www.the-music-store.com/store > Upper Right Search: 'messiah vocal score'
  •  In Phoenix: Central Music – (602) 274-6532
——-Order online: http://centralmusicdirect.com/product/?PID=172952
  •  Also Available through amazon.com
     (Search: 'messiah score'  > The cover is grey with green writing)
---
To Prepare, Rehearse With the Best: You will enjoy your upcoming performance the most by becoming familiar with the choruses at home prior to our April 13th 'Messiah Sing-In.'  Therefore, you might as well rehearse with and learn from the very best. The following Youtube link will provide the amazing Choir of King's College, Cambridge as your rehearsal partners. 
 •  https://youtu.be/-nZpe32M-EI
---
On Saturday, April 13th…  Our one & only rehearsal begins promptly at 5 PM. Plan to arrive at least 20-30 minutes early to park, refresh yourself, find your section – soprano, alto, tenor or bass, and claim a seat. Feel free to bring a brown-bag snack for your 45-minute post-rehearsal break prior to our 7 PM performance.
This Is Important: You will find our 1¼–hour 5 PM rehearsal extremely beneficial for your fullest participation. In that short time, our unique & diverse choral backgrounds will be united into a single, well-tuned, glorious ensemble. At 7 PM, joined by our soloists & orchestra, a few more choristers and hundreds of expectant listeners, our celebratory performance will begin. 
---
Admission

:  

For Tickets

Go Here
   'The Singers'
       Singers & Choristers. . . $20 ticket donation. 
   'The Listeners'
       Patron Level . . . . . . $45 General Seating
       Benefactor Level . . . $65 General Seating
       VIP Prime Level . . . . $125 On-Stage Seating
---
A Celebratory Fundraising Concert
During MESSIAH's first several decades most public performances were fundraising events for worthy causes. All proceeds from this celebratory 'Messiah Sing-In' beyond production expenses will benefit Sedona Conservatory's Festival Concert Organ, an historic installation of two legendary landmark American instruments. Both are irreplaceable musical treasures. Together they will constitute the world's largest concert hall pipe organ. Learn more HERE. 
---
See you soon

in Scottsdale!


Saturday – April 13th
Sedona Conservatory is a 501(c)(3) tax exempt organization.
All donations are tax-deductible to the full extent of the law.
*  *  *  *  *
---